One (01) month single entry visa on arrival
This is the most popular type of visa for Vietnam which is normally valid for 30 days with single use. You are allowed to stay uninterruptedly within 30 days and once you leave Vietnam, the visa will be expired.
Vietnam tourist visa is good for tourism purposes. With 1 month single entry visa, you can't re-enter Vietnam without applying for a new one.
Vietnam tourist visa 1 month single entry can be obtained at the Vietnam Embassy or at the airport in Vietnam with visa on arrival service. Normally, people would love to apply for visa on arrival to save the time and money. It is especially beneficial for those who stay far from the Vietnam Embassy. The 1 month single entry visa processing fee will be around 15 USD and the stamping fee is 25 USD.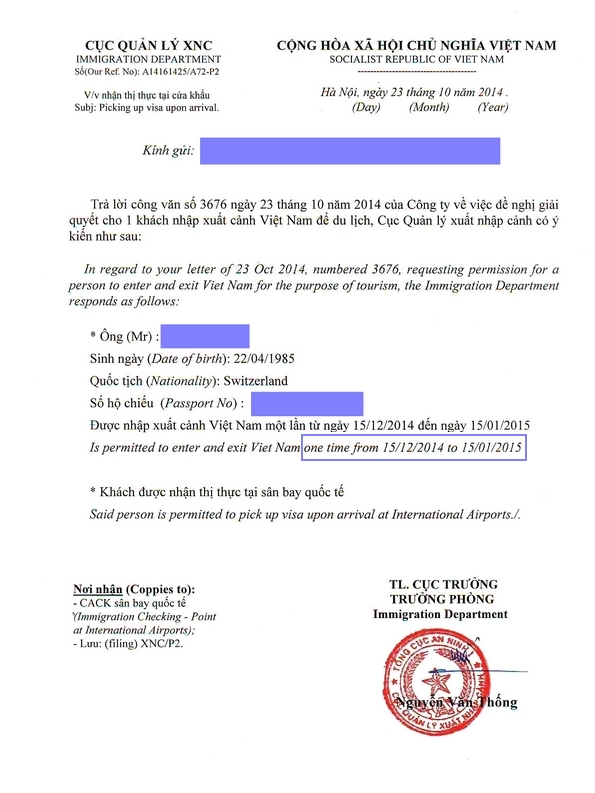 Processing fee and stamping fee
Visa type

Normal processing fee

Urgent
processing
(8 - 24 hours)

Urgent
processing
(4 hours)

Stamping
fee

1-2 pax
3-5 pax
6-9 pax
10 pax +

1 month single entry visa

$ 15
$ 13
$ 11
$ 9
plus $ 15
plus $ 30
$ 25
Notice: From the 2nd application onwards, you are offered 20% discount when applying with promo code. Then the processing fee is just from 12 USD accordingly.
In order to apply for an 1 month single entry visa arrival and pick up your visa at Vietnam airports, the following information is required:
Your name on passport: It is your full name appears on your passport, name order is not important, so you can place either surname first or first name first.
Your date of birth: In Vietnam, the date format will be DD/MM/YYYY
Your nationality or passport: The passport you are using to enter Vietnam (UK, US or Australian)
Your passport number: As shown on your passport and should be valid for 6 months at least from the date of arrival.
Date of arrival: It is not necessarily exact, you can fill in with proposed date of arrival, however, please be advised that you can just enter Vietnam later not earlier.
Photos: Photos are required at Vietnam airport only
RELATED POST