Visa approval letter
Vietnam visa approval letter (IPA letter) is the legal document which allows the travellers getting visa at arrival airport. This document is issued by the Vietnam Immigration Department and must be presented at both departure and arrival airports for you entry.
Vietnam visa is required for most foreigners to enter and exit Vietnam at one of 3 international airports: Hanoi, Ho Chi Minh City and Da Nang. Travelers are advised to arrange Vietnam visa before their departure by applying online for the approval letter (IPA letter) first, receive the letter by email, then get visa stamped on their passports at Vietnam airports upon arrival.
Get started by filling in the secure Vietnam visa application form with correct details of the visa applicants like full name, date of birth, nationality, passport number and arrival date. Once the payment is conducted, we will submit the documents to the Vietnam Immigration Department on behalf of the customers. In case your visa application has been successful, you will be issued an in principle approval letter (IPA). This letter states the basic conditions (visa type and validity) for collecting visa at Vietnam airport.
By applying Vietnam visa through wwww.vietnamvisa.dept.vn, you will get the IPA letter within 2 working days (maximum) or in 1-2 hours in emergency cases.
Upon arrival airport, you need to present the following documents: your passport, Vietnam entry and exit form, copy of visa approval letter and 2 passport sized photos (see photo requirement) and pay the stamping fee to the Immigration Officers to get visa stamp. After having the visa stamp, you can proceed to the baggage area.
For more details about the visa approval letter, please refer to the explanation below: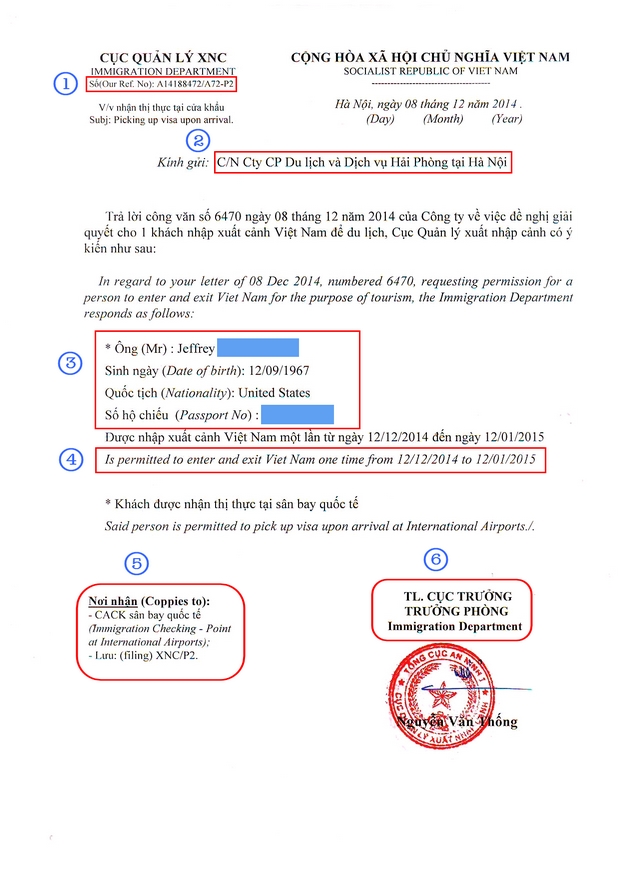 In which:
No 1: Your visa reference number in this list of Vietnam Immigration Department. This number and all information provided by you will be transmitted to secure system of Customs Clearance at Vietnam Airports;
No 2: Name of agent processing all paper work to submit your visa application to Vietnam Immigration Department;
No 3: Your information provided when making an online application via website www.vietnamvisa.dept.vn;
No 4: Type of visa (single or multiple entry) and permitted length of stay in Vietnam (1 month or 3 months);
No 5: A copy of this document will be sent to Immigration Checking Point for your Customs Clearance when you arrive Vietnam Airports.
No 6: Official stamp of Vietnam Government and signature of Person in charge from the Vietnam Immigration Department for your visa confirmation.
RELATED POST