Vietnam visa requirements for Chinese
Providing free tools that anyone can check to make sure if the citizens of China do need a visa to Vietnam or not; also giving the instructions on how to get the Vietnam visa from China or from any countries.
Vietnam immigration policies regulated that almost resident of the countries must have Vietnam visa prior to arriving Vietnam, except the citizens in the Vietnam visa exemption list. You should check carefully if you are in the Vietnam visa exemption list or you are obligated to make a Vietnam visa (or visa approval letter) before entering country. It will keep you away from many troubles during your entry.
Is Vietnam visa required for Chinese citizens?
"Yes, Chinese citizens do need a visa to enter Vietnam"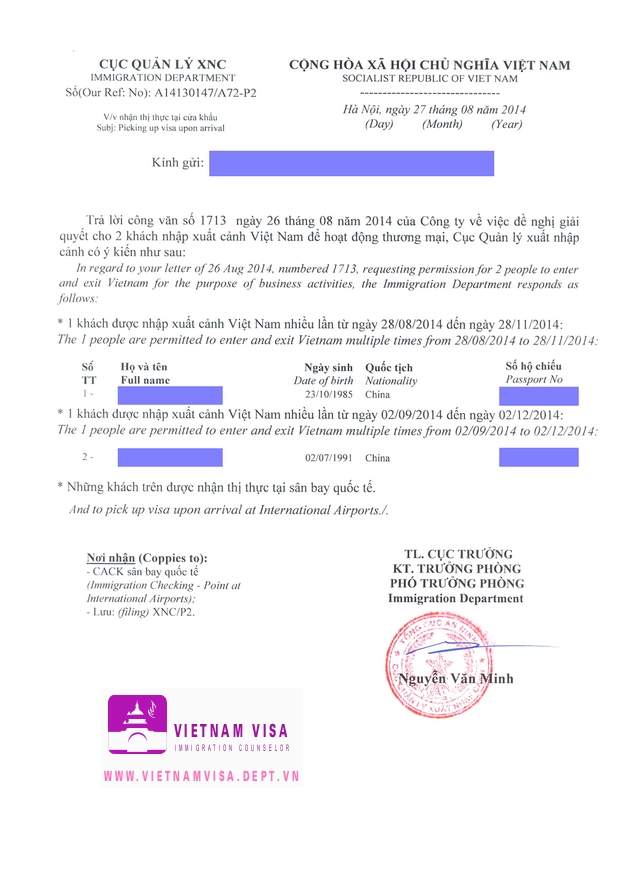 (Visa approval letter for Chinese processed by Vietnam visa DEPT)
Visa is one of the many things for which Chinese citizens need to prepare before traveling to Vietnam.
From China, the applicants may apply for Vietnam visa by 2 options:
Getting a visa on arrival within 2 working days or just 1 or 2 hours by applying visa online. It is beneficial for those who are travelling Vietnam by air and living in the country where the local Vietnam Embassy is too far to reach. See more how it works.

When applying for Vietnam visa on arrival, there is NO document and original passport required. The applicants just need to provide the visa information by filling in the online application form with full name, gender, date of birth, nationality and passport number. A letter of approval issued by the Vietnam Immigration Department will be delivered via email at a given time.

Getting a Vietnam visa from Vietnam Embassy or Consulate in China and it takes 3 - 5 working days
Required documents for Vietnam Embassy visa application include original passport, application form attached with 1 photo and visa fees.
NOTICE
In 2014,
Vietnam visa on arrival
is not applicable for Chinese citizens who depart from China mainland. The applicants are then requested to apply for visa at the Vietnam Embassy in China or Vietnam visa code instead.
For Chinese citizens who fly into Vietnam from the 3r d countries like Macau, Hong Kong, Taiwan or Singapore... then Vietnam visa on arrival is accepted; [ THIS HAS BEEN REVOKED since 2015 ]
From 2015 to present, the Chinese customers can apply for visa on arrival before flying into Vietnam from China mainland and pickup visa at one of 3 international airports in Hanoi, Ho Chi Minh City or Danang.

If you have any further queries, comments or feedback, please kindly call us by +84-912-685-141 or send an email to vietnamvisabooking@gmail.com. We are happy to assist you at our best.
Related information