Vietnam visa requirements for Finnish
Providing free tools that anyone can check to make sure if the citizens of Finland do need a visa to Vietnam or not; also giving the instructions on how to get the Vietnam visa from Finland or from any countries.
Vietnam immigration policies regulated that almost resident of the countries must have Vietnam visa prior to arriving Vietnam, except the citizens in the Vietnam visa exemption list. You should check carefully if you are in the Vietnam visa exemption list or you are obligated to make a Vietnam visa (or visa approval letter) before entering country. It will keep you away from many troubles during your entry.
Is Vietnam visa required for Finnish citizens?
"No, Finnish citizens have 15 days Vietnam visa exempted"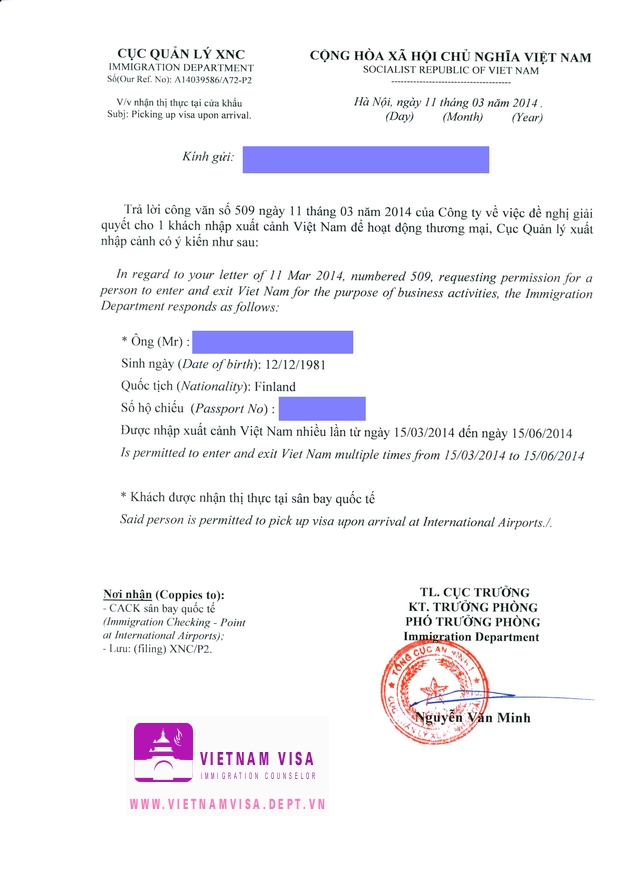 (Visa approval letter for Finnish processed by Vietnam visa DEPT)
"Visa on vain yksi monista asioista, joista sinua valmistautumaan ennen matkaa Vietnamiin. Vietnam maahanmuuttopolitiikkaa säädellään että lähes asukkaat mailla on oltava Vietnamin viisumi ennen Vietnamin paitsi kansalaisten viisumin vapautettu maissa. Olet tyytyväinen tarkistaa, jos olet Vietnamin viisumi vapautettu kansalaisia ​​tai olet velvollinen on Vietnamin viisumi tai Vietnam hyväksymiskirje ennen saapumistaan ​​Vietnam. Se pitää sinut pois monia ongelmia aikana kirjoituksesi."
However, the Finnish citizens who is wishing to stay in Vietnam for more than 15 days, a Vietnam visa is required. The 15 days visa exemption starts on arrival date (day 1) when you pass through immigration. You need to exit Vietnam (going through immigration) on the 15th day from the arrival date (day 1).
Citizens of Finland or those who are currently living in this country may apply for Vietnam visa by 3 options:
Getting a Vietnam e-visa: If you are the citizens of the following 80 countries, you are eligible for Vietnam e-visa application. Vietnam e-visa can be arranged within 1 working days, 4 working hours or 2 working hours to satisfy your Vietnam entry needs anytime.
Getting a visa on arrival: If you are not in the Vietnam e-visa list, you can apply for Vietnam visa on arrival and get a visa approval letter within 5 - 7 working days or even 3 working days in a rush situation. It's beneficial for those who is living in the country where there is no Vietnam Embassy and the visitors will arrive Vietnam by air (it is a must);
Getting a Vietnam visa from Vietnam Embassy in Finland and it takes 3 - 5 working days with some specific required documents.

If you have any further queries, comments or feedback, please kindly call us by +84-912-685-141 or send an email to vietnamvisabooking@gmail.com. We are happy to assist you at our best.
Related information