Vietnam visa requirements for German
Providing free tools that anyone can check to make sure if the citizens of Germany do need a visa to Vietnam or not; also giving the instructions on how to get the Vietnam visa from Germany or from any countries.
Vietnam immigration policies regulated that almost resident of the countries must have Vietnam visa prior to arriving Vietnam, except the citizens in the Vietnam visa exemption list. You should check carefully if you are in the Vietnam visa exemption list or you are obligated to make a Vietnam visa (or visa approval letter) before entering country. It will keep you away from many troubles during your entry.
Is Vietnam visa required for German citizens?
"No, German citizens have 15 days Vietnam visa exempted"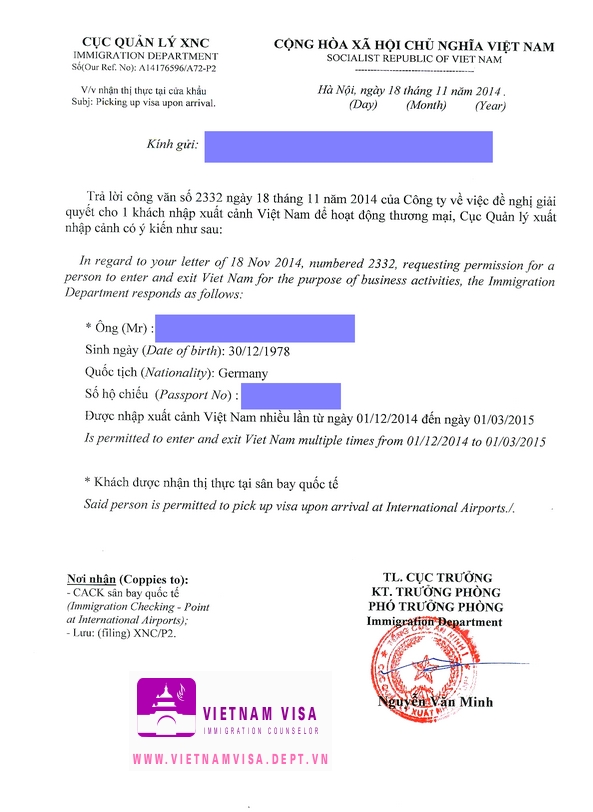 (Visa approval letter for German processed by Vietnam visa DEPT)
"Visa ist nur eines der vielen Dinge, für die Sie vorbereiten, bevor Sie Vietnam reisen werde. Vietnam Einwanderungspolitik geregelt, dass fast Bewohner von Ländern muss Vietnam Visum für die Einreise Vietnam außer den Bürgern Visum befreit Länder haben. Sie freuen sich, wenn Sie sich Vietnam Visum befreit Bürger sind, oder Sie sind verpflichtet, Vietnam Visum oder Vietnam Zustimmung Brief vor der Ankunft Vietnam haben. Es hält Sie von vielen Mühen während Sie Ihre Eingabe."
However, there must be 30 days minimum gap between 2 entries via visa free access and the German citizens who is wishing to stay in Vietnam for more than 15 days, a Vietnam visa is required. The 15 days visa exemption starts on arrival date (day 1) when you pass through immigration. You need to exit Vietnam (going through immigration) on the 15th day from the arrival date (day 1).
Citizens of Germany or those who are currently living in this country may apply for Vietnam visa by 2 options:
Getting a visa on arrival within 2 working days or just 1 or 2 hours by applying visa here. It's beneficial for those who is living in the country where there is no Vietnam Embassy and the visitors will arrive Vietnam by air (it is a must);
Getting a Vietnam visa from Vietnam Embassy in Germany and it takes 3 - 5 working days with some specific required documents.

If you have any further queries, comments or feedback, please kindly call us by +84-912-685-141 or send an email to vietnamvisabooking@gmail.com. We are happy to assist you at our best.
Related information