Vietnam business visa (visa DN)
The business visa gives you the right for a continuous visit or several visits to Vietnam for business purposes. The duration of visits in total should not exceed 3 months.
Requirements for Vietnam business visa to work with the Vietnamese Enterprise
From 1 January 2015, those who enter Vietnam to work with Vietnamese Enterprise, they are obliged to apply for DN visa.
In order to get a DN visa, the foreigner must provide following documents:
The letter of authorization of the enterprise (original);
The copy of business registration certificate of the enterprise (notarized);
The copy of stamp registration certificate of the enterprise (notarized);
The copy of tax code registration certificate of the enterprise (notarized);
The introduction letter for the stamp (03 samples) and the signature (03 samples) of the director (original);
The visa form (original);
The working program of the applicants (original);
The documents to state the reason for getting visa on arrival (original);
To apply for Vietnam business visa DN, you will need to prepare a valid passport of six months at least beyond the date of arrival, 2 passport regulated size photos, and visa fee. If you apply for Vietnam visa on arrival then a pre-approval letter granted by Vietnam Immigration Department before departing to Vietnam is must.
For a business visa applying at the Vietnam Embassy, you might be requested to submit a sponsorship letter by a licensed Vietnamese company, vary on each embassy. This letter will be issued by your partners or employers. However, if you apply a business visa online, this sponsorship letter is NOT required and the application process is exactly the same as tourist visa application process.
NOTICE: In case you are not eligible to provide all above documents, we will do it for you and the extra fee will be added to the normal rate.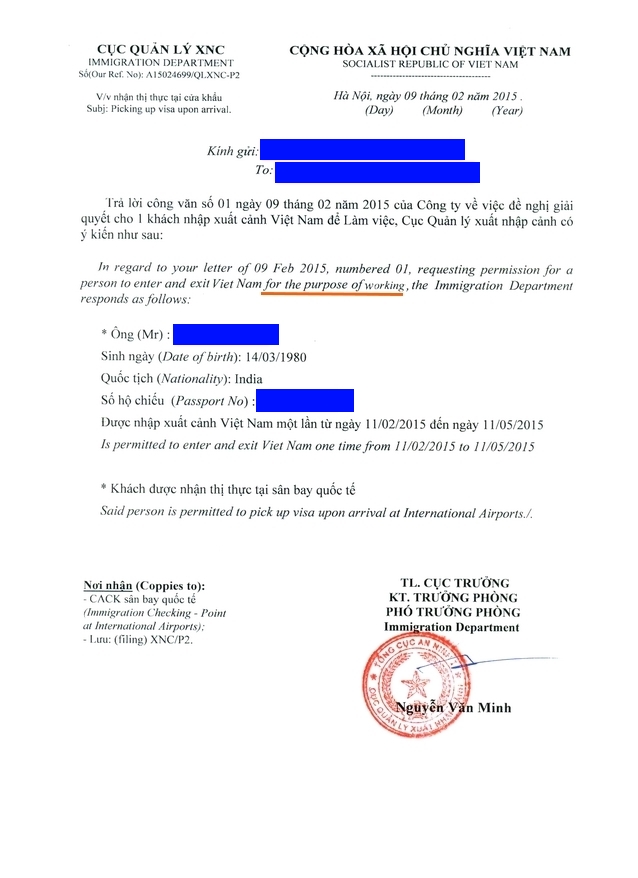 How to apply for a business visa for Vietnam?
Vietnam business visa can be applied at the Vietnam Embassy or applied online easily through some simple steps without passport and sponsorship letter required.
1. Apply for Vietnam business visa at the embassy
The applicants come in person to the nearest Vietnam Embassy to submit the following documents:
- A valid passport: Your passport must be at least 06 months validity beyond stay in Vietnam to meet airlines requirements and with at least 2 blank pages available for visa stamp and sticker.
- Application form: The application form can be downloaded at Vietnam Embassy website or get it directly from the office of Vietnam Embassy. The form must be completed, signed and attached with 01 passport sized photo.
- A sponsorship letter: The letter is written, signed and sealed by a licensed Vietnamese company.
- Visa fee: Must be in the form of money order, or cashiers check, or certified check payable to "THE EMBASSY OF VIETNAM". Applicants applying together may submit combined payment in one money order or certified check.
- Processing time: Five (5) business days are required to process visa applications with approval.

2. Apply for Vietnam business DN visa online
STEP 1 - Fill out the secure online Vietnam visa application form
Get started by filling in the secure Vietnam visa application form with correct details of the visa applicant's including: full name, date of birth, nationality, passport number and proposed arrival date.
STEP 2 - Confirm and make online payment for the service fee
- Double check with your current passport to make sure the information in Vietnam visa application online is correct.
- Make a payment online for the visa service (we accept the online payment by credit cards via PayPal, through Western Union or bank wring transfer).
STEP 3 - Contact the Vietnamese Enterprise to provide us the required documents
In case you are NOT able to arrange the document, we will arrange it for you and the extra fee will be added to the normal rate.
STEP 4 - Receive visa approval letter and get visa stamped at arrival airport
- After 2 working days (normal processing), 1 working day (urgent processing) or in 4 or 2 hours (emergency processing) we will complete the visa approval letter to send you via email
- You then print out the letter (colour is preferred but not required); prepare 2 passport-sized photos and the stamping fee in cash
- Upon arrival airport in Vietnam (at 1 of 3 international airports in Hanoi, Da Nang or Ho Chi Minh City), you will submit the printed visa approval letter, original passport, photos, fill out an entry form, and pay the stamp fee (US $95 for 3 month multiple entry visa) to the Vietnam Immigration Officer, you will get your Vietnam visa stamped on to your passport.

Start applying DN visa, without sponsored documents...

If you employ the fast track service, our agent will take a responsibility to complete visa procedure at the airport via fast lane. You don't have to queue in line and wait for visa stamp which might take hours.
RELATED POST